I experienced major sticker shock when I first began shopping for homeowners insurance for The Golden K.  My long term insurance agent quoted a premium that was about three times what I would have expected for a home the size and value of The Golden K.
But I was basing my expectations on a home in the Bay Area, not one that is located in the middle of a rural area that is high risk for fire.
When you live in the Bay Area, under most circumstances, you don't worry that a raging fire will take out entire neighborhoods or small towns.  When you live in the mountains one worries about fire all summer long.  Especially when that summer and the high temps that come with it follow a record setting winter for rain.  Add millions of dead pine trees killed by the bark beetle during the proceeding five years of drought and it's a recipe for disaster.
So yeah, insurers either won't offer coverage in areas prone to wildfires or the cost of the coverage is very high.  After a little more shopping and research we were fortunate to find reasonably priced coverage that offered us the security we needed.
As I sit here within the beauty and peace of The Golden K there are many wildfires burning throughout the state.  The closest is approximately 20 miles from The Golden K as the crow flies and is being referred to as the Detwiler fire.  It's located just southwest of Yosemite near the famous gold rush town of Mariposa.  The fire has scorched 75,000 acres (100 square miles), destroyed about 60 homes, and has caused mandatory evacuations for hundreds in surrounding areas.
If I was still living in the Bay Area I could connect intellectually with the natural disaster and threat of this fire.   But now, after living in the foothills for over a year, I am emotionally connected to this Dewiler fire and all the others.   Emotionally connected to this fire that that continues to rage but thankfully as of today is about 40% contained.  I'm emotionally connected to the tragedy for so many families who lost everything in this fire, some without homeowners insurance because they either couldn't get coverage or couldn't afford it.
It's been a week since the Detwiler fire began and it will be many more days, if not weeks, before it is totally contained.   The Golden K was never in danger but that doesn't change the emotional connection I now feel.  I feel a small tinge of fear in the pit my stomach when I think about having to bug out with only a moments notice as so many have had to in the middle of the night when CalFire comes knocking on their doors. I can only imagine the internal conflict of loading up pets, grabbing important papers, maybe a computer and driving away from the fire – and away from home.
Earlier this week at The Golden K around 3:00 in the afternoon.  Smoke from the nearby Detwiler fire practically hid the sun.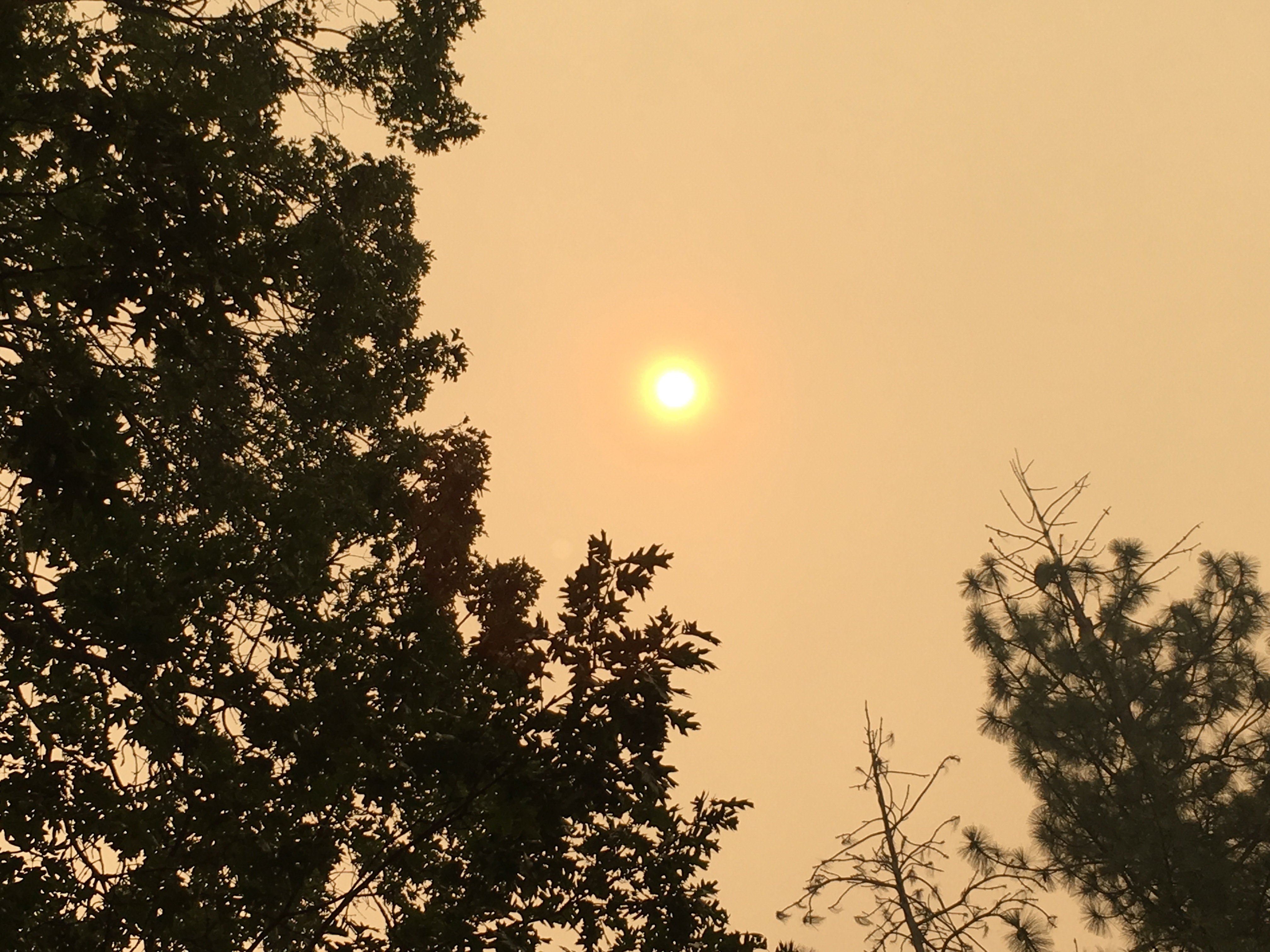 So as these fires burn throughout the state I am reminded to never, ever, take The Golden K for granted and to always appreciate the beauty and power of mother nature.
And above all I am reminded to never lose my romantic perspective of life at 3100 feet.