I've never been a fan of winter! When I lived in the Bay Area and as Fall drew closer to Winter , I would begin lamenting the cold, wind, and rain that would soon be upon us. I complained to the point where I would not enjoy Fall because I was dreading the upcoming Winter season.
"No matter how long the winter, Spring is sure to follow"

– English Proverb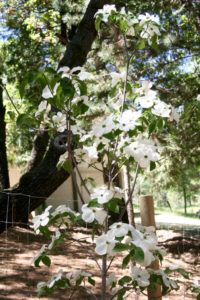 When I moved to the Tuolumne County Foothills six years ago I was determined to embrace all the seasons. Even Winter. All seasons in Tuolumne County and surrounding foothill communities have an appeal but Spring in the Sierra Nevada Foothills is special and a favorite of mine. Barren ground suddenly turn green. The Dogwoods begin sprouting clusters of white flowers that will give way to green leaves during the Summer. Wild flowers show up overnight. The days become longer and the air warmer.
The Golden K has all of this and more: plentiful trees! Jeffery and Ponderosa Pines, Incense Cedars, and Manzanita. But my favorites are our Black Oaks.
Black Oak Trees
The Black Oaks are a great representation of the "circle of life".
In early Fall the Black Oak leaves begin turning orange and then yellow. They eventually turn brown as they fall to the ground during late Fall and early Winter, leaving the trees bare. These grand oaks have big trunks with limbs and branches that reach high to the sky. Even when naked and without leaves they are beautiful and majestic. My signal that Spring has arrived is seeing the very first sprouts on the Black Oaks; usually in Mid-March. Within a month they will be filled with dense green leaves creating much welcomed shade during the Summer. I find myself looking up for the sprouts and when I see they've arrived I find myself smiling and happy. This sense of joy has not diminished after six years living beneath these wonderful living beings, these Black Oaks!
The Black Tail Deer
The return of the Black Tail deer is always a pleasant site especially when I see the spotted fawns with the mama doe pass through the Golden K. The bucks who shed their antlers during Winter also return and represent another circle of life as their antlers grow back, covered with Velvet. Then during the Summer they spend hours rubbing that velvet off on trees to finally display a set of antlers larger and grander than the year before.
Community
As we get into mid-Spring the community seemingly and collectively come alive and together with Farmer's Markets, Festivals, and more and more outdoor activities. There are so many outdoor activities year round in the Foothills but during Spring and Summer there are so many options. Yosemite National Park, lakes, fishing, hiking, parades, the Rodeo, and on and on.
Whether you come to visit or choose to live here full time Spring in the Sierra Nevada Foothills and Tuolumne County will not disappoint you!
As for Holly and I we chose to live here six years ago and now fully rooted at The Golden K we are fulfilling the vision I had as a young man: living in nan area with a slower pace of life, living within the natural splendor of the mountains, and being part of a smaller and more intimate community.
My romantic vision of life at 3100 feet.